The content packed second issue of ANVIL! Stamped as overrun or marked as a reprint, get your hands on this collection of incredible stories. Check them out below:
Soulless City: Bryan Asher & Batsky
Nathan takes it upon himself to find and destroy the remnants of a tech-driven cult he once belonged to. His search leaves him trapped in a derelict building with cybernetic zombies and a woman he didn't plan to save. Left with nowhere to run, his only way out is to fight.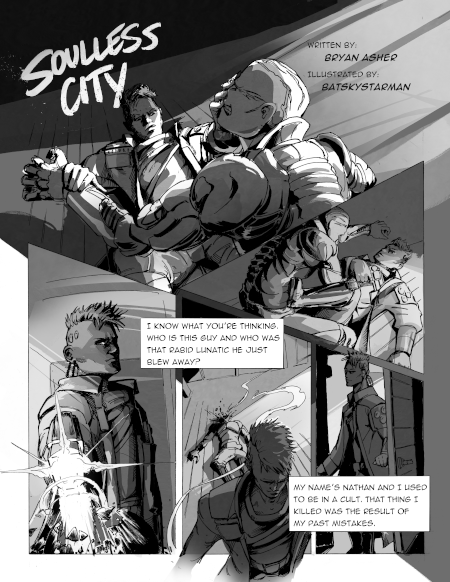 Baphomet's Child: Immortal Rising Tales #1
Dracula and his Undead Lords ruled the planet of Terra for over a millennium, until the brave warrior Andrulykis destroyed Dracula's Curse.
Now Otan Grimm, first warrior disciple of Andrulykis, is on a quest to save a child from a remaining Cult of Dracula. Little did Otan realize, this cult's leader was a creature from Hell itself.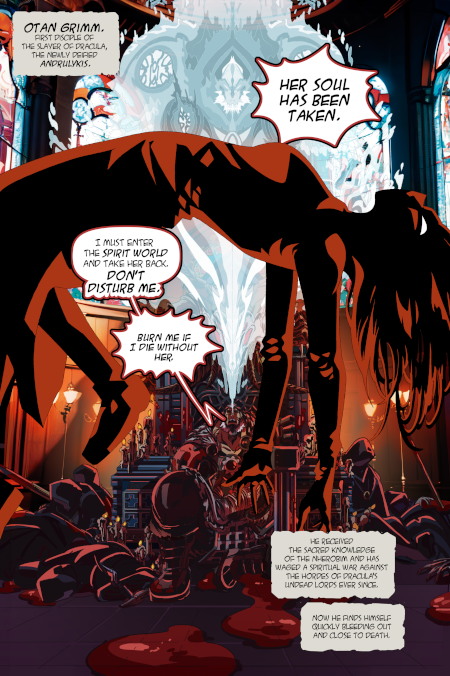 Corpse Fishers
: TheBONSAI
In this short dark science fantasy story, two deep divers sink into the flooded depths of a ruined mechanized world for a chance to save their kin. Will they re-emerge with their saving treasure, or will they draw the ruinous attention of the abyss?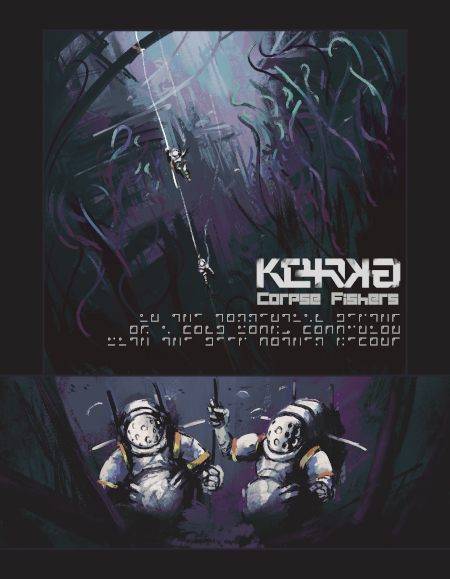 Prowler of Blagh Square by Micah Murray
The town of Hotterdam is hidden, forgotten; its people preyed upon by an unhuman creature, or so they tell Dr. Sebastian Apostol. Calling upon his services to relieve them of their torment, Sebastian must learn what he can of the beast, lest its horrors go unchallenged and consume them all. Yet the doctor remains a slave to the instincts of his profession and questions whether the folk of Hotterdam are what they appear.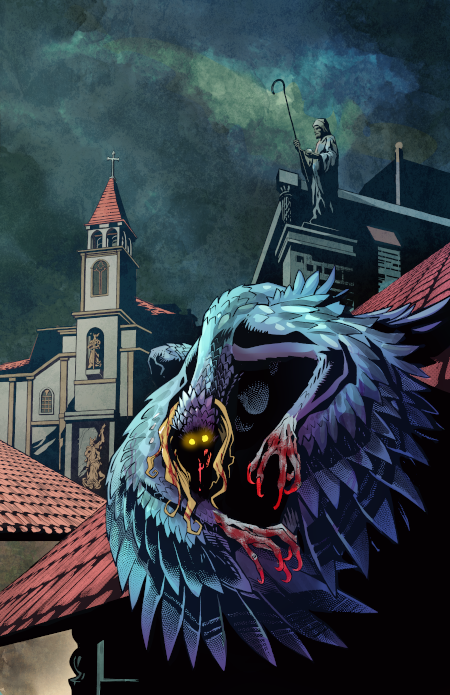 Mourning Light by R.J. Shaw
The story follows a warrior who is the sole survivor of a doomed expedition. Seeking to honor his comrades, the soldier begins to mourn those who have fallen. But his solemn vigil is soon interrupted by the chilling realization that the enemy he so recently fought was only one evil among many and that he must face this new menace alone.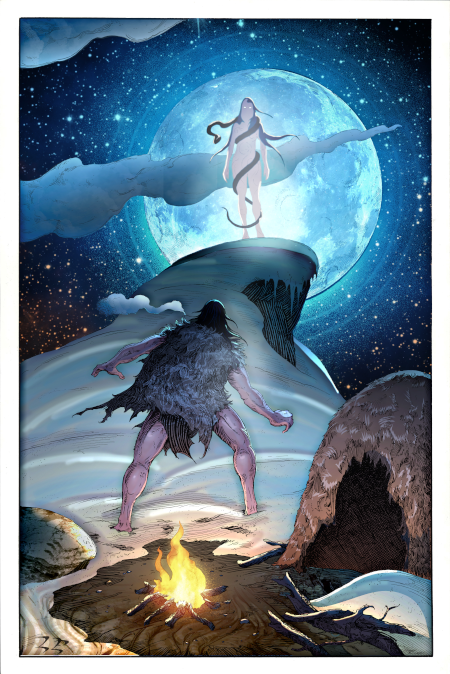 Ghost of a Distant Star
by JD Cowan
Galactic Enforcer Ronan Renfield finds himself riding the midnight train on a far-off planet alone and armed. As he rides into the night he meets an alien ghost with a vengeance against man. But is it really a spirit, or something more sinister? Perhaps it is time for his gun to do the talking . . .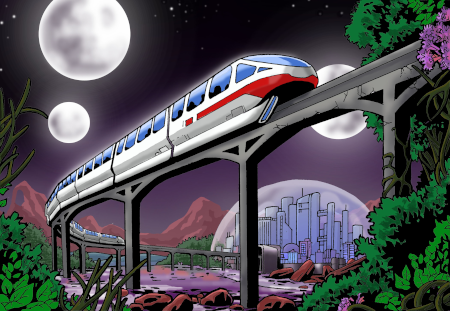 Afflicted: Nourritures les Ver by Jaime Faye Torkelson
Amélia Mitre is Afflicted. Cursed by a pact of her own making, she is made to follow the Weird Way of Scealfe, God of Death of Decay. Summoned to the industrializing city of Beauanne, the Cursed Doctor finds herself investigating a disturbing disease that defies the laws of nature and therefore, the laws of her dark patron. She must discover the origins of the plague and punish anyone foolish enough to pretend rivalry with the God of Death.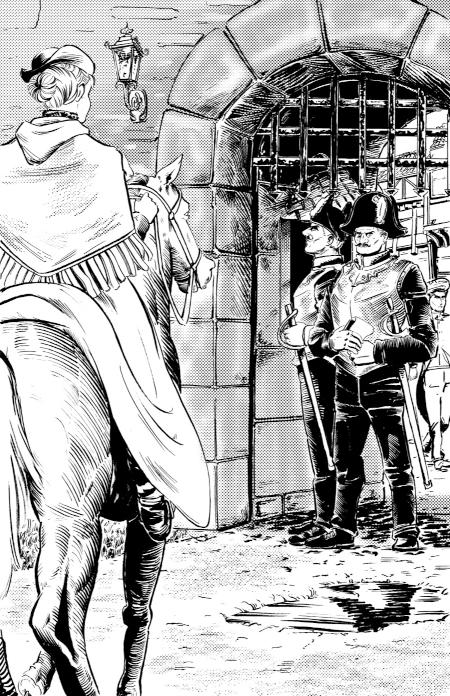 Flight of the Caged Bird by Andrew Campbell
Sarah and her boyfriend are looking for some privacy in the woods, but their romantic night turns into a nightmare when they encounter a savage creature that stalks them through the shadows. Sarah must run for her life, dodging the beast's relentless attacks and hoping to find a way out of the forest. There are secrets hidden in the woods, secrets that could cost her everything. Can Sarah survive the night, or will she succumb to the creature's wrath?
Cruel Creation by TJ Marquis
A hi-tech clone comes awake in a vat of bio-gel with only vague memories and dreams of what has come before. The white-clad strangers outside the vat speak of oblivion. Will the clone be able to make an escape before dark unconsciousness falls again?
Blades Against Fear by Erik Waag
What fear lurks in the night?
The King's Highway in the verdant hills near the city of Tonsaare is as safe as one could hope for, but wherever darkness descends, fear may follow. Two mercenaries in search of easy coin face a deadly challenge far greater than their pay warrants.
In this sword & sorcery adventure, a camp-side ghost tale presages a supernatural threat. When the night kills, a sword isn't enough; you need guts.
The Shadowed Canal by Nate Chen

The people of Citadel Fionni are menaced by strange shadows lurking in one of their famous canals. Famed bravos Aelfred and Gwendolyn sometimes called the Herakleians, are hired to find the source of the shadows and get rid of them. However, the problem calling itself the Dark Lord Saffron is not easily solved with sinew and ax. The Herakleians will have to take a step back, discover the root cause, and do their best to ensure that it never troubles Fionni again.
But first, they'll have to get free from the Dark Lord's shadow...
King Birdie by J. Manfred Weichsel
In this slice-of-life horror tale, an ordinary afternoon of kids hanging out turns into tragedy when one hears voices drifting to him from a faraway land.
Throne by A.M. Harrison
In this fantasy short story, the horror of the battlefield isn't enough to fully repel the pious pyromancer Faren from her duty to the dead, but her encounter with a darkly mysterious necromancer will open her eyes to a more terrible evil than she ever thought possible. Their meeting here will ultimately determine whether their journey will include cooperation, or put their fantastic powers at odds as the world around them threatens to fall further into doom.
The Chroniclers and The Frozen Fountain by Daniel P. Riley

Once more, Eliden, Pasho, and Grokthnar step in it as they travel to a wondrous city frozen in time. Can The Chroniclers unravel the mystery of the Frozen Fountain and save not just a city, but the entire world from absolute enervation?
Great book! I enjoyed the stories and art, highly recommended!